Is cbd oil Addictive?
Can I become addicted to CBD?
With all of the claimed benefits of CBD oil, many will ask if it is addictive. And while heavy use of cannabis can cause a dependence and other adverse effects for some, CBD oil does not have addictive properties like traditional marijuana. That is because CBD oil comes from a different strain of plant.
Scientists, researchers and professionals in the medical field are exploring the potential benefits of cannabidiol everyday. CBD is one of over 400 compound found in the cannabis sativa plant.
The most studied cannabis plant cannabinoids are THC and CBD. THC is the part of the plant that makes you high and is usually smoked with that intention. CBD products are much different and do not make you high. They have no psychotropic effects.
In this article, we will discuss the science and studies around the addictiveness of CBD.
What is CBD?
As mentioned, CBD stands for cannabidiol, and is one of over 110 cannabis derived compounds from the hemp plant. CBD is widely studied for purported health benefits due to its interaction with the endocannabinoid system.
The ECS is a vast network of cannabinoid receptors found in the body and the brain. It can influence a person's mood, pain levels, stress and more.
CBD products are hugely popular in the UK, USA and Europe and come in the form of CBD oil, gummies, vapes and tablets. It is legal in most European countries as long as it is CBD derived from a specific species of the cannabis plant being Sativa-L which is low in THC naturally. Sativa-L is one of a few high CBD strains of the marijuana plant.
What are the Health benefits and Effects of cbd products?
The most common reasons people take CBD hemp oil is chronic pain relief, sleep issues and mental health issues like anxiety, depression and to regulate a person's mood.
Clinical trials are underway for a host of other uses like blood pressure regulation, cardiovascular disease, anxiety, insomnia, erectile dysfunction and more.
More research is encouraged as the public is far outpacing researchers in discovering the beneficial uses of CBD.
Is CBD addictive?
With all of the positives mentioned, there has to be some downsides right? Because we know that some medications are addictive; what about CBD products?
According to a 2017 report, the World Health Organization states that "evidence from well-controlled human experimental research indicates that CBD is not associated with abuse potential."
This means in very scientific terms that CBD does not display any addictive characteristics. Great news!
I know smoking marijuana can be addictive, why isn't CBD?
CBD products differ greatly from marijuana. For starters, smoking marijuana causes THC to be inhaled in large quantities. Some CBD oil may contain THC, but at legal levels deemed too low to cause any adverse events.
THC produces psychoactive effects and gives users a high. People with addictive behaviors can become hooked on THC which causes it to create a number or public health related problems.
Cannabis addiction is a growing problem in the United States and the UK with marijuana use now surpassing cigarette use. Severe forms of cannabis withdrawal syndrome include depression, lethargy and tiredness.
If you are currently addicted to smoking marijuana, you may want to read our article on how cbd can help with addiction, there you will find knowledgeable tips on overcoming your addiction cycle.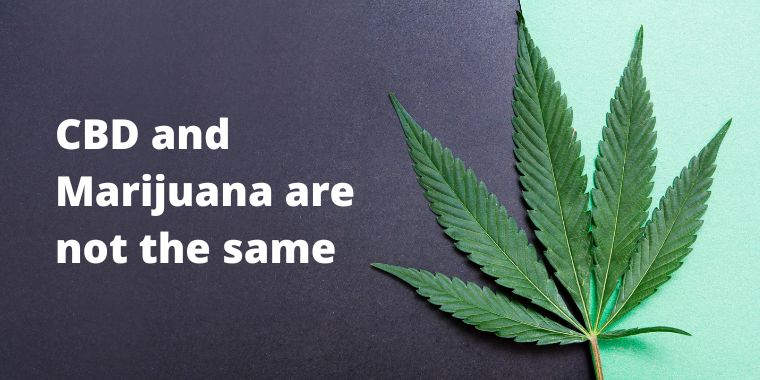 Don't both come from the same plant?
Many of you will put 2 and 2 together and ask: If CBD comes from the cannabis plant and so does marijuana, what make CBD any different? You don't want to develop a drug addiction! Let us explain.
Firstly, legal CBD is derived a strain of cannabis that is naturally low in THC. Even in high doses, it will not make a user high. Infact, cbd exhibits an ability to cancel out the psychotropic effects of THC. So it actually fights of a high.
In the USA where cannabis laws are more lax, there are marijuana derived cbd products that have an increase in THC levels and are intended to help with chronic pain and sleep issues. Federal law in the USA prohibits these types of products crossing state lines but state laws deem them ok to be used and sold. If you are having doubts about the source of a product, be sure to use pure cbd oils from hemp and not marijuana derived cbd products.
In the UK and Europe, all CBD must be produced using hemp oil rich in CBD. It must have less that 0.2% THC by volume. Regulation is starting to take shape with the European Food Safety Administration of the Novel Food standard. All of our products at Pure Organic CBD have been evaluated by the EFSA and are fit for sale and use.
What about Medical marijuana? Is CBD the same?
No it is not.
Medical marijuana or medicinal cannabis is a prescription medications route to smoking pot. The effects of cbd hemp oil are not the same in any way to smoking marijuana which does give you psychoactive effects.
Currently, the UK does not allow the prescription of marijuana for smoking.
Does the Government approve of any CBD medication?
The FDA approved epidiolex in 2018 and the UK followed suit. Epidiolex is a pill that is used to treat epilepsy and seizures. It has been highly effective and its invention is credited to Charlotte Figi.
Outside of governmental approval, CBD oil is widely used because it is legal and has shown itself to be highly effective.
How Sure are you that your CBD products are not addictive?
We are against any drug and alcohol dependence.
When we started, we asked ourselves is CBD addictive? It was a significant safety concern of ours and ethically, we would not sell a single CBD product if it was addictive.
After studying high quality clinical trials and reading the medical journals about CBD, we were very pleased that CBD oil is not addictive in any way.
We've even asked ourselves if the effects of cbd can be addictive or create any addictive disorders for the users. With great certainty, we can say no. We actually recommend our customers to stop using CBD oil once they start feeling relief. The key to using CBD products is to use as little as possible to save money.
What are the Most Common Reasons for taking CBD?
Is CBD addictive? According to the World Health Organization and numerous studies, the answer is no. And now that we've given you the facts, you may be ready to start taking it.
The benefits of CBD are especially great knowing with peace of mind that it is not addictive. Below are some of the most common uses of CBD oil.
Chronic Pain
CBD oil is widely used to help with chronic pain. Pain in your muscles, back, joints caused by a number of issues being the most common.
Clinical data and preliminary evidence suggest CBD use works to calm pain signals to the brain and is a natural anti-inflammatory. Many users are happy to use a natural solution like CBD rather than addictive pain medication.
The success rate of our users is very high with some finding relief for weeks before having to use CBD oil again. We love to hear these stories so if this sounds like you, please leave us a comment below. Sharing your CBD oil for pain story could be valuable information for others.
Sleep Issues like Insomnia
CBD use can give you better sleep. That's because it helps to calm the body and mind allowing you to relax and chill.
People with severe forms of insomnia have found cbd to be effective in producing a good night sleep and giving people who suffer hope.
Clinical evidence shows that CBD helps the body produce melatonin which can induce sleep at night time. Melatonin is a natural
People often ask us, is it safe to take CBD oil during the day. Yes, it is. CBD is not a sleeping pill and works much differently. The best part of all, there isn't any chance of it being addictive so you won't develop any substance use disorders. You will not have to worry about CBD addiction if you are taking it for sleep.
Neuropathic Pain
Neuropathic pain is pain signals from the skin to the spinal cord to the brain. People that have neuropathic pain use CBD to calm the nerves and allow them to function more properly.
A study on CBD oil for this type of pain was conducted in 2020. 29 participants were either given CBD oil or a placebo. The people given CBD showed improvements when compared to participants who did not use CBD.
If you are looking to relieve neuropathic pain naturally, be sure to buy CBD oil that is organic and effective. You will not find a higher quality that the products we offer.
Reduce Anxiety and Depression
The therapeutic properties of CBD are many, but one of the most common uses is to reduce anxiety and depression which is a very common undiagnosed mental illness in the UK and Europe at the moment of writing this.
As mentioned, CBD works with the endocannabinoid system to calm anxiety and ramp up serotonin production which is responsible for our mood and happiness. Severe forms of anxiety can cripple our daily lives leaving us to feel down and out so it is best you get help sooner rather than later. You deserve to live a very happy life and we are sure our products can help.
Conclusion
We can truly appreciate anybody's concerns about addiction with CBD products. Why would you want to start anything that comes with withdrawal symptoms and negative consequences?
The therapeutic benefits of cbd oil are many and the downsides are few making it a perfect natural remedy for you and your needs.
Of all the commercially available cbd products, we really do feel that ours offers the highest quality and effectiveness. Our hemp derived cbd products are full certified organic. They've all been registered with the EFSA as a food supplement and EU Cosmetics portal. There is no cannabis dependence when using our products.
Bonus Discount Code for 20% off Your First order!
As promised, if you're looking for that pure cbd experience, go ahead and save yourself 20%.
Use code 20CBD when checking out. And as always, if you have any questions, please contact us, we'd love to help.