Do CBD infused drinks Actually Work?
If you've recently gone to the supermarket in the UK and passed by the drinks aisle, you may have noticed something new; CBD drinks being sold. These products have become very popular recently with some people building a "CBD brand" around them.
And while that's fine and good if you're trying to create hype and make quick money, but CBD products are supposed to do one thing: provide benefits to the user. Normally we like to stay out of people's way and promote our CBD oil as we feel that they offer customers real value, but the CBD drink and cbd infused craze has us thinking: "what's the point?".
In this article, I explore if taking a CBD drink does you any good from a user benefit point of view.
What Are CBD Drinks?
CBD drinks are exactly what they sound like. They are made with a base of carbonated water, flavourings and CBD isolate.
They started popping up around 2020 as a new and exciting form factor for taking CBD on the go and in a delicious way. Some of their main selling points are:
Drinks are a convenient form factor making CBD drinks easy to use and extremely portable.
They come in flavours that look tasty.

To the uninformed CBD user they present themselves as an alternative way to take CBD.

They are new and intriguing and

their large size relative to the tiny amount of CBD oil taken regularly gives a misleading impression as to their potency

.
While these USPs look good from a marketing point of view, there are none on this list that directly equal the most important thing; user benefits.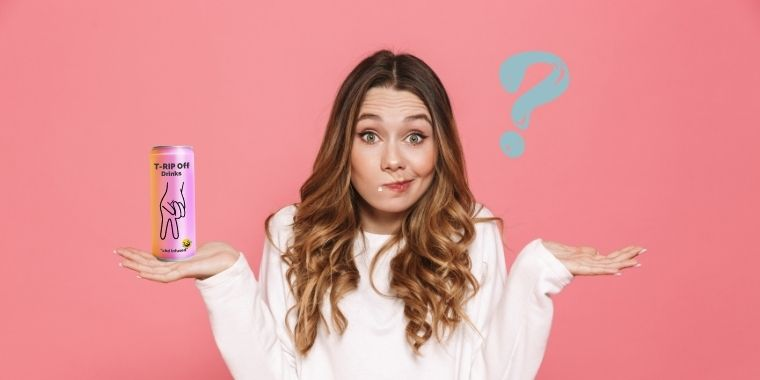 What are CBD Drinks Supposed to Do?
To begin, we have to look at the amount of CBD is in these drinks. A quick look at the top products in the UK tells us 15mg is the standard dosage per beverage. Considering this, it is quite a small dosage after factoring in actual bioavailability or absorption. CBD ingested orally only has a bioavailability of 4% to 20% max. So at 15mg per can and at max absorption, the user will absorb 3mg; probably much less.
There seems to be a common trend in the market with CBD drinks; they all supposedly make a person calm. Buzzwords like "calm", "chilled", "balanced" or "relaxed" are very common. Ask yourself, does a sugary drink make anyone calm or relaxed? Probably not, so why are they doing it? It's all marketing.
One idea is that a CBD drink is kind of like the "anti energy drink". This frames these products in different ways in the buyer's mind. The key goal of the companies who sell these products is to set habits in the customer's mind 'When feeling stressed, reach for this!'. The problem with this:
Sugar increases heart rate and is bad for your health.
There isn't enough CBD in the drink to yield any benefit.
CBD infused beverages are supposed to reduce anxiety, promote relaxation and help the body be more calm. They are also supposed to make the consumer happy because they are a delicious and tasty treat and they may even quench your thirst. But forget about any real benefits.
Do CBD Drinks Actually Work?
Well, that depends on what you are using it for but if you think there are loads of health benefits for your body, think again.
Each time you consume a CBD drink, the active ingredient must first pass the stomach, then the small intestine and finally the liver. These extra steps degrade the CBD and typically allows the user to absorb about 4% to 20%.
The most popular drink products in the UK have 15mg of CBD per can. Let's say you absorb 10% of that or 1.5mg. I'm sorry but, 1.5 mg of CBD is nothing! Flat out it will not do a single thing for you.
To get a meaningful dose, a person would have to drink 10 cans of an expensive CBD drink to notice any effect at all. That's science talking and not just me! 😉
What Type of CBD is used in a CBD Drink?
In addition to being ineffective, CBD drinks are made with CBD isolate powder. That's because using a CBD infused oil will not mix with the rest of the liquid in the drink.
This is a shame because CBD isolate is a far cry from a natural hemp extract and does your body no real favours. It lacks the beneficial parts of the hemp plant like terpenes, flavonoids and phytocannabinoids found in the cannabis plant.
CBD isolate is generally cheaper and is typically made with "leftover" parts of the hemp plant. How do I know? Let me tell you a story.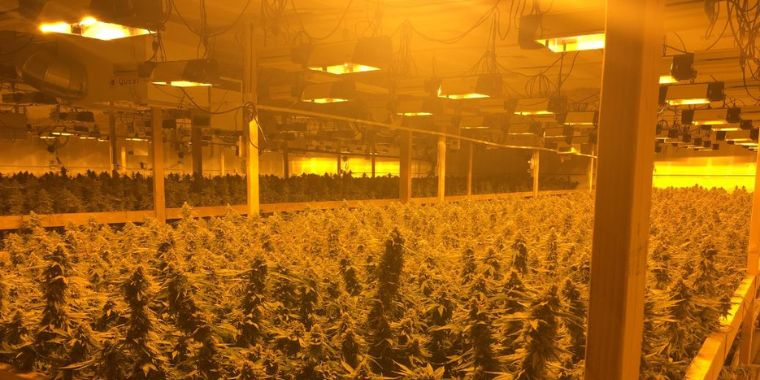 My Experience with the origin of CBD Isolate
Many years ago in Los Angeles, I was given a tour of an industrial warehouse which was being to grow marijuana. In order to maximise their profits growers had started operating in cheap and dirty warehouses.
As I began walking the tour, I noticed a lot of the trimmings from the plants sticking to the bottom of my shoes. The tour guide told us that everything is swept up off the floor and turned into THC isolate and CBD isolate where it is sold for use on the market.
I couldn't imagine it! Junk off the floor was later being consumed by people thinking it was good for their health. After that tour, I promised myself I would never use or sell a CBD isolate product ever!
Why Using CBD oil is Better than a CBD Drink
CBD drinks are consumed and pass through the digestive tract where your stomach acids break it down. If that's not enough, after the stomach, the CBD will pass through the liver where it will further be broken down.
A study done by the University of Minnesota found that by consuming CBD, a person will on average only absorb 5% to 25% of it. Compare that to 20% to 30% absorption when taking a CBD under the tongue or sublingually!
CBD that is consumed takes much longer to take effect because it has to pass through the body. Meaning that you can forget about any "quick calming results" any drink promises you. In reality, you may be waiting for about an hour to notice anything. You might as well do some meditation instead.
Conclusion
Are CBD drinks really hyped up right now in the UK? Yes! Do they actually work? Not if used alone! So why are companies selling them? It's a new form factor and it could catch on and create a new segment.
What I would personally suggest is to use these products as a top-up during your day and stick with CBD oils in the morning and evening. We've shown in this article that CBD drinks are not able to provide enough cannabidiol to be very effective if used on their own. Because of absorption, ingestible products just don't have the potency to provide relief in a cost effective way. Plus, because they use CBD isolate, they may not be as powerful as a full spectrum or broad spectrum product.
We fully endorse new CBD products as long as they work. When it comes to CBD drinks, there may be some validity if used in combination with other CBD products. Time will tell as more people try CBD drinks and decide for themselves.
Bonus Content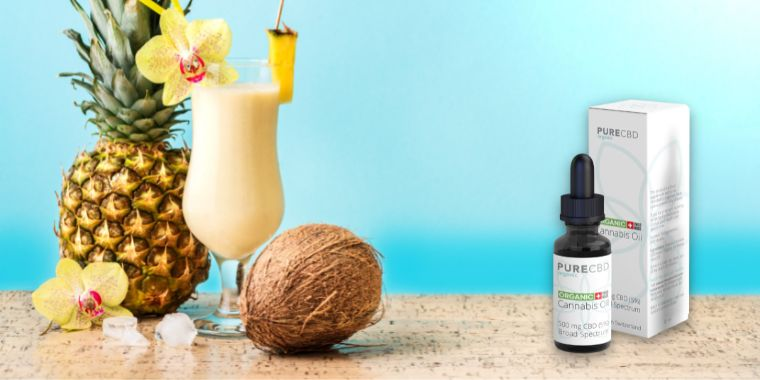 How To Make Your Own CBD Drinks
It's quite easy! Take your favorite drink like a smoothie, fruit juice or a post workout protein shake and add a few drops of CBD oil to it. Then consume and that's it!
Can you add CBD oil to beer, wine or other alcohol? Yes if you want!
Simple put a few drops into the bottle, glass or vessel and drink. You can even make your own CBD cocktails like piña colada with fresh pineapple and lime or whiskey sours with the perfect balance. In general, using natural flavours are always more healthy than flavoured chemical drinks.
As mentioned, using a high quality CBD oil in place of an off the shelf canned CBD drink will allow you to find a dose that will actually work for you plus you won't be using cheap CBD isolate.
Other CBD oil Recipes and Other Food Related Topics
We've created some other CBD oil recipes over the years in case you are a CBD oil foodie.
CBD-Guacamole
Try this dip at your next party. It is packed with natural vitamins and minerals plus a good dose of healthy fats. The cool thing about this recipe is the high fat content of the avocado will actually help your body absorb CBD oil more efficiently. To read, visit our CBD Avocado recipe article.
CBD and Alcohol
We wrote this article to better inform CBD oil users about mixing the two. We breakdown the cautions you must take and any interactions between the two. It is a must read for anyone concerned about this. You can read it here: CBD and alcohol.
CBD, the New Superfood
In this article, we learn how CBD is being considered as a superfood and how it can help other superfoods do their job better. An interesting read and sure to help inspire you to continue down your healthy path to feeling your best all the time. You can read our CBD superfood article here.
If you are looking to try CBD for the first time, be sure to visit our shop page here where you will find products for all use cases.
About the Author
Robby Thompson
Robby is our in house CBD expert and co-owner of Pure Organic CBD. He has been in the CBD industry since 2018. Find out more about Robby on the about us page. Or visit Robby's Linkedin Profile.